Villa Layout
An imposing replica of a Hindu temple gate at Angkor Wat in Cambodia marks the entrance to Villa Belong Dua, to the other side of which a lily pond complete with a bubbling water feature and a Balinese guardian statue welcomes guests to the villa.

In keeping with traditional Balinese style, each room within this peaceful compound occupies its own detached pavilion. Open-sided, fan-cooled living and dining pavilions survey the mature tropical walled gardens and pool, either side of which lie the air-conditioned master bedrooms. The cosy media room, which doubles as a peaceful study, is tucked behind the living pavilion.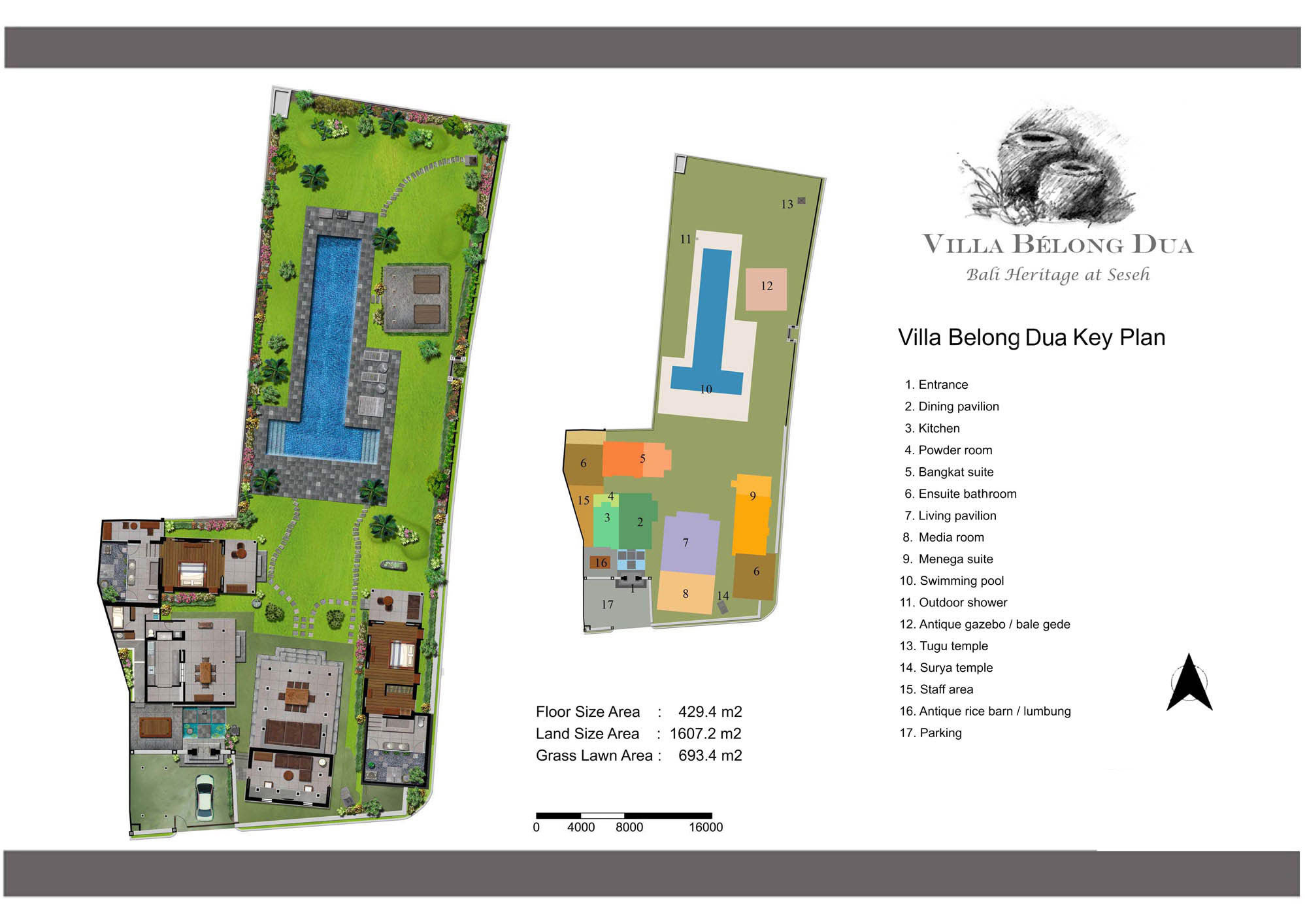 Download in high resolution
Living Areas
Indoor living
Belong Dua's living pavilion is located close to the villa's entrance, overlooking the garden and pool. Distinguished by a vaulted roof supported by eight wooden pillars, and open on three sides, it is furnished with a huge, comfortable, built-in sofa and a low dining table sourced from a Javanese warung (café), surrounded by floor cushions. A large mirror reflects the sunny garden, and the pavilion is beautifully lit at night. Behind the living pavilion is an air-conditioned media room which doubles as an office. Furnished with built-in desks and a comfortable brown leather sofa, this room is equipped with a satellite-channel TV, DVD player and iPod dock.

The semi-open-air dining room shares a pavilion with the kitchen, the two rooms are creatively screened from each other with rows of earthenware bottles. The dining room is furnished with an antique table, six chairs and an antique wooden chest on wheels, known as a gerobog, originally used for storing rice. Fascinating maps and prints hang on the walls, and a captivating portrait of an old Indonesian gentleman takes pride of place at one end of the room. This room, which is cooled by ceiling fans and natural breezes, has the provision of electric blinds on its two open sides in case of inclement weather and is equipped with an iPod and dock. A guest washroom is positioned to one side of the dining room.

The immaculate polished-concrete kitchen is fully equipped with a five-burner gas hob, oven, microwave, fridge, and everything else that the cook needs to create delicious meals.
Outdoor living
The fragrant landscaped garden at Villa Belong Dua is characterised by mature trees, a velvety lawn and open skies, and is planted with coconut palms, frangipani, lemon and mango trees, pineapple plants, ginger and lemongrass. It is surrounded by a rustic wall crafted from crushed paras stone applied by hand and unpainted. A Balinese temple shrine sits in the north-east corner.

The dazzling 20 x 4 metre swimming pool is the garden's central feature. The slate-lined pool is presided over by a Buddha head statue; it presents a separate shallow section for children and is bordered by a candi stone deck furnished with one double and two single Sunbrella sun beds. An outdoor pool shower is thoughtfully provided here.

Resting beside the swimming pool is an antique balé gede from Bali's Gianyar regency. Originally a traditional two-bedroomed family home, this (now open-sided) pavilion comprises twelve wooden pillars which rest on paras stone plinths and support a roof of radiating beam work crowned with alang-alang thatch. Still furnished with the two original timber bed frames, some step stools taken from an old sugar cane press and a prayer table, it's a perfect spot for couples to enjoy a massage, or just relax with a good book.
Bedrooms
Accommodation at Villa Belong Dua comprises two bedrooms in stand-alone pavilions named Menaga and Bangkat. These names go back to the time when the village of Seseh was much bigger and administratively divided into banjars or local village councils.
Each bedroom pavilion features a terrace at the front lit by colonial-style bell-jar lanterns and furnished with an antique daybed. Sliding doors lead into romantic air-conditioned and fan-cooled bedrooms with cream coloured walls, wooden floors and soaring roofs. Each is furnished with a king-size netted four-poster bed backed by terracotta tiling, and equipped with a wall-mounted LCD screen satellite-channel TV, DVD player and iPod dock.
The delightful air-conditioned ensuite bathrooms are decorated in earthy tones and fitted with a sculptured terrazzo bathtub for two, and double washbasins upon a terrazzo vanity unit which faces a window to ensure plenty of natural light. Glass doors can be opened for a semi-alfresco bathing experience, complete with an outdoor rain shower set in a private walled courtyard with a pebbled floor and a serene Buddha statue. There is also a handheld shower in the bathtub, and a circular skylight that channels the moonshine. Both rooms also feature a spacious dressing room furnished with a wardrobe, chair and dressing table that doubles as a desk.
An additional single bed with mosquito net can be assembled in Bangkat on request.